We offer 3 levels of tumbling-specific programs.
Learn more about our tumbling programs below.
Beginning through Advanced Tumbling
During these one hour classes, athletes will focus on building upon basic movements like forward rolls, cartwheels, and handstands, gradually progressing to more advanced skills such as round-offs, back handsprings, and front flips. Coaches focus on proper technique, body alignment, and spotting techniques to ensure the safety of the athletes. This program does not cover movement on the trampoline, bars or beam.
1 hour class for ages 6 and up
No prior gymnastics experience required
Student / Teacher ratio 8:1
Tuition rate: $95/month
Classes meet weekly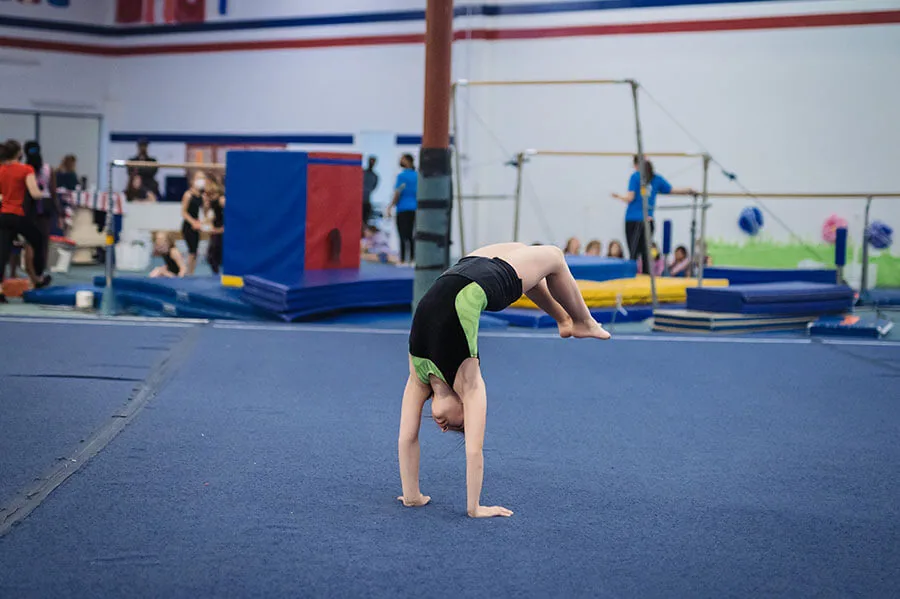 Rates and Fees:
Tuition is charged to accounts the 25th of the month for the next month.
Annual membership fees are $35.00 per participant for the period Sept. 2022 to Aug. 2023
Registration and payment are only available through our online parent portal.
Class cancellations due to COVID-19 will be offered make-up sessions but there are no refunds.

Please note: Membership fees are non-refundable.
Class Scheduling:
We reserve the right to change the above schedule and cancel classes with less than 3 students.
The number of classes each month will range between 3 and 5, averaging 4 per month.
Tuition rates do not vary based on the number of classes in a given month.
The class schedule is subject to change as we adjust and or add classes.
Class space is on a first-come / first-serve basis and space cannot be held without all fees, tuition and forms being completed online.